In honor of the Oscar nominations being released today, here are my top 10 picks of 2016. I still need to catch up on a few noms, but based on what I've seen these are my favorites of the year.
1. Hell or High Water
David Mackenzie's intriguing crime film is terrific and worthy of all the attention and buzz it is getting this award's season. It is truly one of the best crime films I've seen in a long time. The film has some outstanding performances from Bill Foster, Chris Pine, Jeff Bridges and the rest of the supporting cast. It is beautifully photographed as well. I loved the direction and how the film takes its time and doesn't rush itself. This just an all around great ride from start to finish.
Link to trailer – https://www.youtube.com/watch?v=JQoqsKoJVDw
2. La La Land
To be honest, I usually don't like musicals but this film blew me away. I had high hopes after seeing Damien Chazelle's Whiplash a few years back, which I believe is one of the 21st Century thus far. I knew if anyone was going to tackle a modern musical, he was the guy to do it, and man does he knock it out of the park. This film is a great love story, and the music is perfectly weaved into the narrative. The singing and dance numbers are well put together and hark back to the Golden Age of Hollywood. Not to mention the great performances from the entire cast, the excellent cinematography and editing. Chazelle is America's next great auteur and I can't wait to see what he achieves next.
Link to trailer – https://www.youtube.com/watch?v=0pdqf4P9MB8
3. Silence
Scorsese's passion project is a masterfully crafted film with some outstanding performances. The cinematography is mind-blowing and it tells a powerful story about a man dealing with a crisis of faith through persecution. I wish this film had gotten more nominations because it truly deserves it.
You can read my full review here – https://davidsfilmreviewsblog.wordpress.com/2017/01/23/silence-scorseses-passion-project/
Link to trailer – https://www.youtube.com/watch?v=TcNKM4TI41E
4. Green Room
Technically this film came out in 2015 but it was not released in theaters until 2016, so I'm including it on my list. Jeremy Saulnier takes traditional genre thrillers to new extremes with this film. I love thrillers that take place in mostly one location. This is one of the more tense thrillers I've seen in a long time too. It has some awesome performances from some great young actors including Anton Yelchin (R.I.P.). The film also uses its gruesome violence to great effect. I was blown away with this low-budget thriller and it was one of my favorite surprises of 2016.
Link to trailer – https://www.youtube.com/watch?v=Q8XSARX3DQg
5. Arrival
Denis Villeneuve is another great modern director, and I cannot wait for Blade Runner 2049 this year. Especially after seeing Arrival. The film is an intriguing concept that blends a strong science fiction story with some philosophical elements. There are some great performances from Amy Adams, Jeremy Renner, Forest Whitaker and the supporting cast. It is beautifully shot and the special effects are stunning to say the least. I enjoyed this new take on the alien genre, and its plot has some nice twists and turns that I was not expecting. All in all it's an entertaining and thought-provoking science fiction film.
Link to trailer – https://www.youtube.com/watch?v=AMgyWT075KY
6. The Nice Guys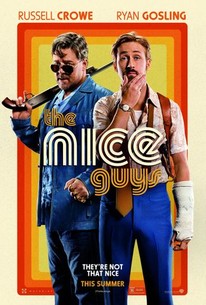 This film seemed to get lost in the sea of summer releases but I really enjoyed it. It is a new age buddy cop movie from the man who reinvented buddy cop movies, Mr. Shane Black. So of course it has his traditional style of humor and violence, but also has a bit of heart. Ryan Gosling and Russel Crowe worked very well together as this insane duo and both give great comedic performances. The film is definitely one of the better written films I saw last year and is highly entertaining.
Link to trailer – https://www.youtube.com/watch?v=GQR5zsLHbYw
7. Deadpool
In this modern age of super hero flicks and reboots, we really needed a film like Deadpool. It brought the super hero genre to its knees, and showed that a bloody, raunchy, R-rated super hero film can make mad money. Ryan Reynolds gives the performance of his career as Wade Wilson/Deadpool. I've seen this film three times now and each time I notice more jokes that I didn't before. I love its deconstruction of the modern super hero genre and how it completely goes against everything they stand for. This film perfectly brought the character Deadpool to the screen and righted the wrongs of Fox's past.
Link to trailer – https://www.youtube.com/watch?v=ZIM1HydF9UA
8. Captain America: Civil War
This was the best popcorn flick of the year for me. I was really impressed with how the Russo brothers were able to balance this many characters and still give them compelling and fulfilling arcs. It seems this is the film that Marvel has been building up to for over 8 years, and it's hard for me to understand how they will top this. It perfectly raised the stakes for all our favorite Marvel heroes and pitted them against one another. All the while delivering an entertaining film with some awesome action sequences. It also had one of the more interesting villains that Marvel has yet produced. I think this is going to be the peak of Marvel's filmography, but I hope they are able to sustain it.
Link to trailer – https://www.youtube.com/watch?v=dKrVegVI0Us
9. Don't Breathe
This was another great thriller that took place in mostly one location. Has a lot great twists and turns that were difficult to predict. It is really well shot too with some really stunning camera movements. There is this one long take at the beginning of the film that pretty much sets it all up in one shot. It also makes great use of sound with its excellent score and sound design. I thought the characters were well written and performed. It is a solid thriller from start to finish and another great surprise from 2016.
Link to trailer – https://www.youtube.com/watch?v=76yBTNDB6vU
10. Everybody Wants Some
Richard Linklater's spiritual sequel to Dazed and Confused is an interesting film that I felt was under looked in 2016. It didn't quite live up to my expectations but I still thought it was an intriguing film with some depth. It frames itself in the marketing as a college style comedy, and it certainly has some of that, but it is also about these young men trying to find themselves in their first few days of college. It is a flawed film, but an interesting one with some heart.
Link to trailer – https://www.youtube.com/watch?v=y6raUs0CiCQ
What are your top films of the year?
Written by William David Glenn IV
1.24.17